Serving North Carolina's Automobile Dealers since 1935
The North Carolina Automobile Dealers Association (NCADA) is a trade association representing North Carolina's franchised automobile, truck and RV dealers. Formed in 1935, today's NCADA actively represents nearly 600 new car, truck and motorized RV dealers. The association is dedicated to providing the highest quality service in education, insurance, and dealer promotion for North Carolina dealers. Our mission is "to use our collective power to proactively preserve, protect and enhance the economic life, relationships and image of our members and the association itself.

Are You Insured by Dealer's Choice?
2018 NCADA Title Clerk Seminar
Join us for the September 2018 Title Administrator Seminar at the Sheraton Imperial Hotel Raleigh-Durham at Research Triangle Park! Conducted by DMV Training Staff, this seminar will cover basic and advanced titling procedures.  This is a great opportunity to cross-train your staff and receive critical updates on title processing procedures. If you have never attended this beneficial seminar, don't miss your chance.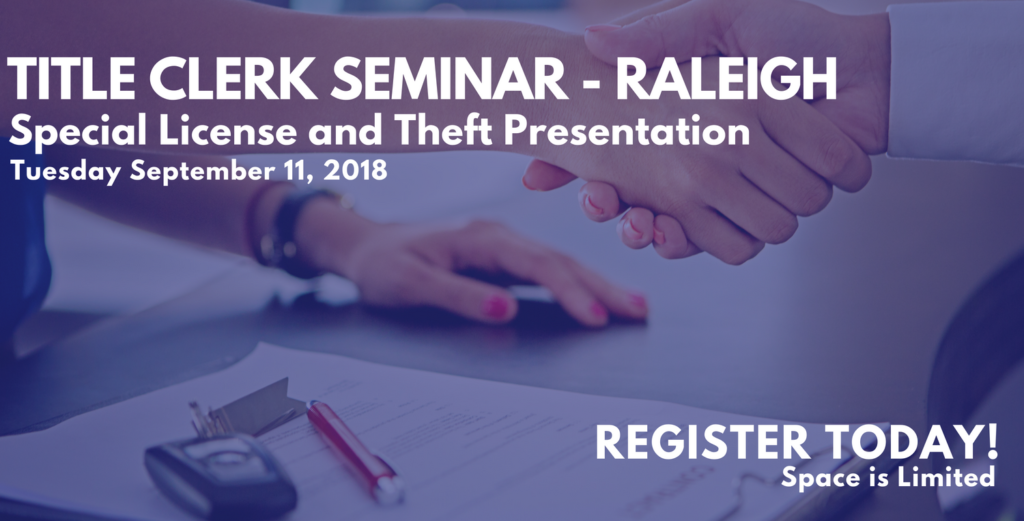 What's Happening at NCADA
At a special luncheon ceremony held at the 2017 NCADA Executive Forum on December 12 in Cary, NC, 28 first responders were honored as NCADA Hometown Heroes. Dealers from across the state worked with their fire, police, EMT, and sheriff's departments to honor those that serve local communities. Joey Matthews of Heister Automotive kicked off the luncheon by singing the National Anthem. ...
Read More

→
For the past ten years, NCADA's annual Legal Seminar has been the must attend event for dealers to get the latest information on state and federal regulatory, legislative and legal issues impacting our industry. This year's seminar was held earlier this week at the Koury Center in Greensboro. Led by NCADA Chairman Tom Hunter and moderated by NCADA President Robert Glaser, the ...
Read More

→
After a couple of month of planning, we are delighted to announce the launch of our new website. We/ve tasked ourselves with this project to create a more user friendly atmosphere for not only our members but our non-members and partners as well. Not only is this new site mobile friendly but we have included easier navigation to all aspects of our ...
Read More

→